A collection of your most favorite Lively Table recipes of 2016.
This is it, friends. My last post of 2016. To say that it has been an eventful year is quite an understatement.  I started out 2016 as a newlywed and a newbie blogger. I was praying and begging for rotations to come and go, urging the minutes on the clock to tick by faster so I could be finished with my master's degree and dietetic internship. So I could use my years of schooling for something – anything! – productive.




Months later, I finally graduated and Mr. Table and I were whisked away to West Texas. We left behind our tiny condo in Dallas and bought our first home together. I passed my registration exam to FINALLY become a registered dietitian(!), and got my first big girl job with a great adult care facility. We bought real life furniture drove all across the state to weddings upon weddings (#adulting). I was featured inan issue of Cooking Light. I was able to travel to Iowa and Boston for "work" and met some amazing RD friends along the way. I found out there is a high likelihood I will get cancer. And then there was that little election. NBD. Then came the holidays out of nowhere. Mr. Table and I hosted our first Thanksgiving, then drove 8 hours across Texas to Houston for Christmas, and now it's already the end of the year. Phew!
Somehow in the past 12 months, my tiny corner of the internet turned into a real-life blog. Like, with followers besides just my mom (thanks for reading all of my posts, Mel!). Of course none of it was without the help of my #GIRLBOSS mentor (and actual boss) Jessica, or of my amazingly supportive hubby. And without a doubt, none of this could have happened without all of you! So if you're here reading this, THANK YOU! Every comment and message I get makes me so incredibly happy that somebody is actually reading something that I wrote.
So with that, here are your 10 most favorite posts of this year:
Skillet Texas Sheet Cake. This was by far the most popular recipe on the blog this year. Yum!
Hot Broccoli Dip. Because #cheese.
Perfect Garlic Rosemary Pork Loin. Once I figured out how to make meat look somewhat appetizing in a photo, this post become super popular.
Warm Eggplant, Mushroom and Kale Salad. This one has always been a hit. Salad is just better warm.
Pecan Pie Baked Oatmeal. Who doesn't want pie for breakfast?
Healthy Pumpkin Pancakes. Something pumpkin was bound to make the list.
Eggs Benedict Quiche. Ain't nobody got time for poaching a dozen eggs.
Spicy Peanut Chopped Salad. This one actually came as a surprise to me!
Quiona Pancakes. Why yes, they are gluten-free.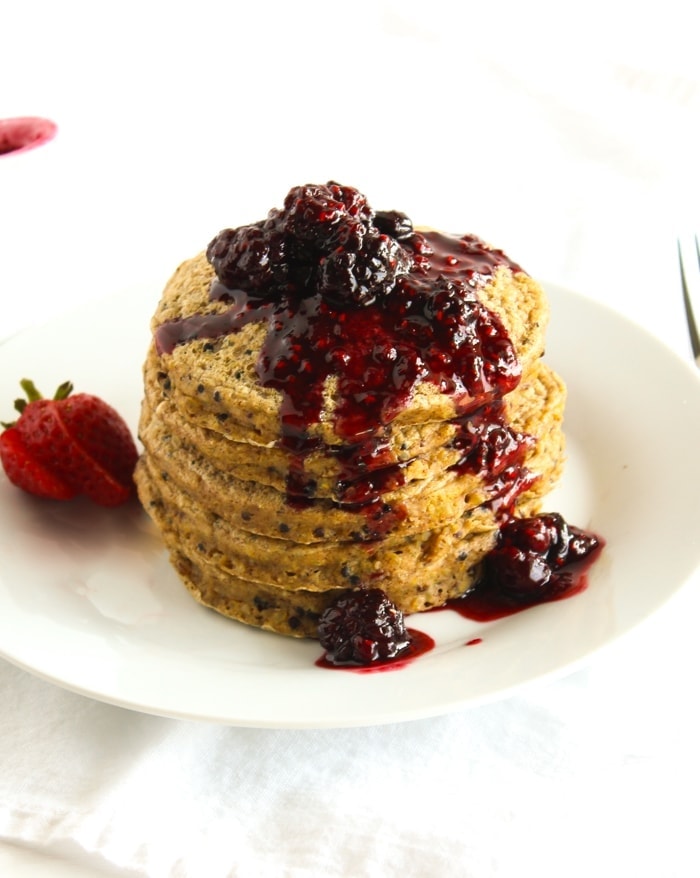 Spring Shrimp Zoodles with Mint Pesto. One of my Lively Table favorites!
And that's a wrap! Wishing you a joyful and prosperous 2017!
Did I miss one of your favorites? Let me know in the comments!