Should you be cleaning up your beauty routine, or is the safer beauty movement just hype?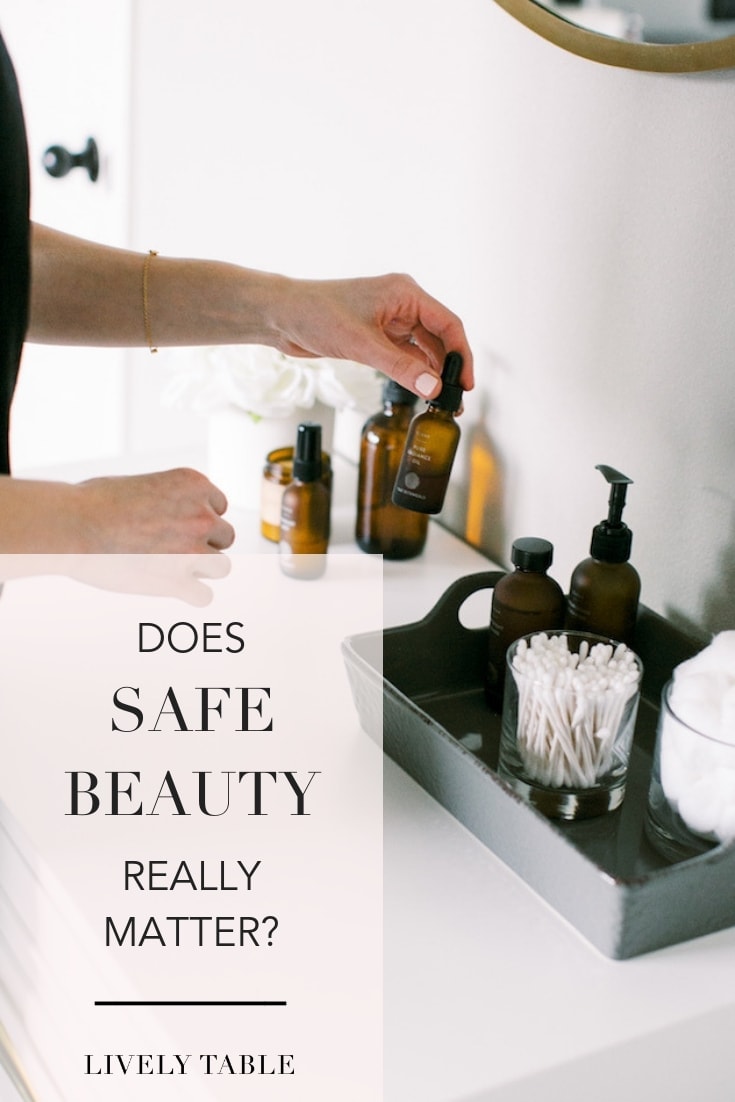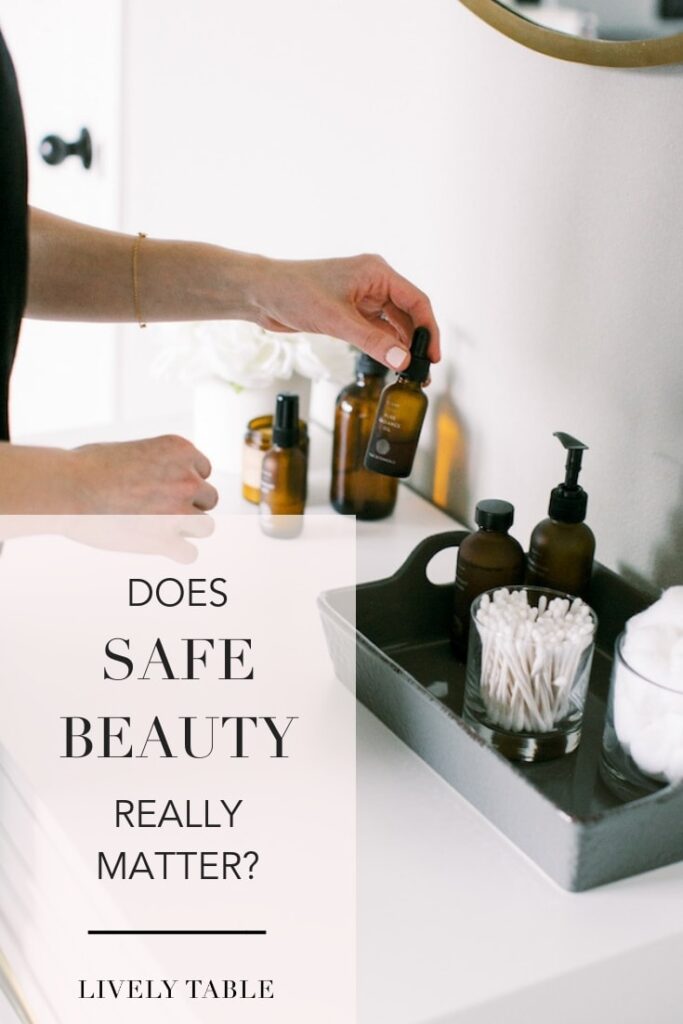 The clean beauty movement isn't going anywhere anytime soon. More personal care companies are trying to be transparent with ingredients in their products and making efforts to make more natural products. But is the fear of conventional beauty products rational, and is it worth the extra money for 'cleaner' beauty products?
Fear-mongering articles without the science to back up claims is not my style, so I'm not going to use scare tactics or made up statistics here. I'm just going to tell you what I know and how I chose to interpret current evidence. You're smart enough to form your own opinion and decide what's best for you and your family.
Here's what we know so far about the safety of beauty and personal care products:
Skin absorbs what you put on it.
Our skin is the biggest organ on our bodies. And it absorbs the chemicals we put on it. BUT we don't know how much. It's not as simple as a percentage, like the 60% rumor. The truth is, there are several factors that go into how much product skin absorbs, such as the particular chemical put on the skin, skin integrity, concentration and exposure time of the chemical, and location of the application. So the rate and amount of chemicals absorbed into the body are unclear, however, there is evidence that chemicals from beauty products are absorbed through the skin into the bloodstream and lymphatic system1. Other products can be ingested (like lipstick) or inhaled (perfumes) unintentionally.
We put a lot of stuff on our skin.
Women use an average of 12 beauty products a day, with an average of 126 chemical ingredients2 - that's a lot of potentials for chemicals to enter our systems!
The US doesn't regulate the use of chemicals in the beauty industry very well.
In fact, the US bans only 11 chemicals for use in the cosmetics industry - compared to the 1,500 that are either banned or tightly regulated in the EU. The last time a chemical was banned in the US was 30 years ago, and the last time a bill was passed allowing the FDA to regulate cosmetic companies better was 80 years ago3. Every attempt to pass a bill since then has been blocked by the Personal Care Product Council. Science has come a long way since then, and I think it's time our regulations reflect that.
In the meantime, it's been up to individual beauty companies to be responsible and provide consumers with safer products using cleaner ingredients. But not all companies have caught up. Some beauty companies, like a few of my favorites below, are striving to be transparent about what's in their products and to make healthier products for us. Others still put whatever they want in their products, harmful or not.
A lot of beauty products contain a lot of chemicals.
Some of those chemicals are perfectly safe. Some aren't. And some we have no idea about because there's just not any research yet. Ingredients like phthalates, parabens, sulfates, retinol, formaldehyde, and artificial fragrances have been linked to hormonal disruption, cancer, reproductive health, allergies, and birth defects. Other ingredients are concerning because of the high risk of contamination. And what's worse is not all of it is always clear on product labels3,4,5. While some studies proving toxicity of these ingredients have been done on animals (which are different than humans) and in much larger doses than people would use at once, we don't know the effects of chronic, low-level exposure (like using beauty products daily for decades)5.
So what is the answer? Should we be cleaning up our beauty routines?
Based on what I know and what I've shared with you above and my personal health history, it is absolutely worth it to me to seek out safer products. Having a BRCA1 genetic mutation making me more susceptible to breast and ovarian cancers, starting a family, having a baby around me all the time that is likely ingesting the products on my skin - these are all factors that went into my decision to find products without toxic or possibly toxic ingredients like talc (even though it's not been proven toxic6), parabens, and phthalates.
But at the same time, I don't have the time or energy to research every ingredient in every product. And labels can be misleading. Buzzwords like 'natural', 'vegan' and 'cruelty-free' don't mean anything when it comes to safety. And many ingredients that are perfectly safe and naturally-occurring look really scary on an ingredient list. So I found brands that are committed to doing the research and have 'never-lists' of ingredients that are either questionable or proven unsafe that they exclude from their products to make it a little easier on me.
My favorite safer beauty brands I trust the most and use regularly are:
Beautycounter - They have a Never List of 1,500 ingredients that they leave out of their products, and are constantly researching and testing for safety. And their products actually work! Because nothing is worse than spending money on a product that sucks. I like Beautycounter so much that I became a consultant with them, even though sales are totally not my thing. (If you're curious about it, feel free to shoot me an email!)
Primally Pure - This is my go-to brand for deodorant, dry shampoo, and baby powder/balm. Traditional antiperspirants and baby powder (which I used a lot as dry shampoo before switching) were concerning to me with my high risk of cancer, so they were the first products I switched out for safer alternatives, and I haven't looked back.
True Botanicals - Their products are 100% MADE SAFE certified. AND they actually work, proven by independent clinical trials. These are by far some of my favorite products, and most of them are pregnancy safe, too, which not many products for skin conditions (like acne) are.
When it comes down to it, choosing a safer beauty routine is a personal decision, just like choosing to buy organic food or not eat meat (neither of which I do, by the way). It's something that every person feels differently about, and ultimately, it's up to you to decide where you stand.
To see recommendations for specific products I love, you can read about My Top Clean Beauty Must-Haves for skin and hair, and The Best Nontoxic Makeup Products.
Resources:
https://www.ewg.org/skindeep/2004/06/15/exposures-add-up-survey-results/